Dacia Sandero 1.5 dCi Stepway
SUV Class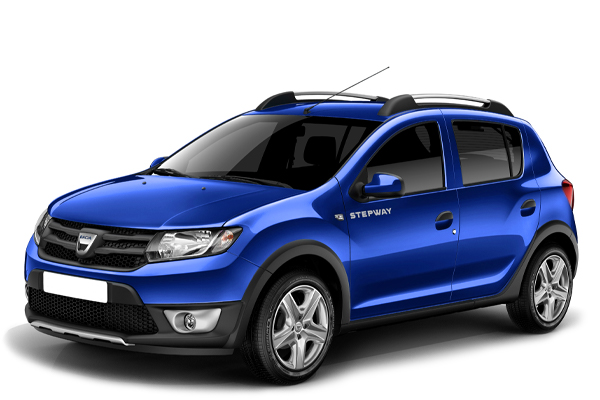 Araç Özellikleri
5 Person

3 Luggage

A/C

Diesel

Automatic

SUV/Jeep
Minimum age: 22
Min. License Year: 2 Year
No Deposit
Inclusive services
Financial Liability Assurance
Theft Assurance
VAT - All taxes and fees.
Free Cancellation
Airport Delivery Fee
Fair Fuel Policy
Damage Liability Insurance (CDW - Kasko)
Unlimited mileage
Optional additional products and services
Baby seat (up to 1 year old)
Covers all the damages above deductibles
Tire-Glass-Accessory Assurance (TWC)
Full Protection Assurance (TPC)
Increased Financial Liability Assurance (TPL)
You can order a beautiful bouquet of flowers for your loved ones.
Covers all the damages to a car
Dacia Sandero Stepway 1.5 dci Easy-R specifications
If we list them; heavy and numb steering, lack of equipment, rigid suspension and noise isolation are the most noticeable. In recent months, the New Dacia Sandero 2017 seems to have overcome these shortcomings. Looking like a crossover, especially with the Dacia Stepway hardware package, Sandero has moved with the times with its alternating front and rear lighting systems. In particular, the LED daytime running lights support the dynamic and modern look of the vehicle. The new look of the front grill increases the dynamics of the vehicle. The biggest detail in the cabin is the carbon-like piece in the center of the console. One of the changes in the cabin has to be the steering wheel. The steering wheel looks more stylish compared to the previous model. In terms of material and workmanship, not much has changed on the Dacia Sandero we know. Hard plastic is used in most parts of the interior. The updated Dacia Sandero will go on sale with 90 hp 0.9-liter turbocharged petrol and 90 hp 1.5-liter diesel engines. Both engines bear the signature of Renault. Both engine variants are mated to an automated six-speed automatic transmission called Easy-R. The new Dacia Sandero Stepway's 1.5-litre diesel engine is among the best in its class. The average consumption is given as 3.8 lt/100 km. It would not be right to expect too much from the performance. The new Sandero delivers 90 hp and 220 Nm of torque. Acceleration is good, especially around town. Not only the steering wheel but also the system of the new Dacia Sandero has been changed. The steering behavior that has become softer also looks good. The comfort of the Sandero, which has been updated in the suspension system, has also been visibly improved. Dacia Sandero Stepway is a bit closer to its competitors in terms of hardware.
Now all four Stepway windows are automatic. The fallback cam works even though the screen is stuck. The Sandero Stepway's 7.0-inch touchscreen deserves praise. The new Sandero Stepway received four stars in the EuroNCAP test. ABS and ESP are offered as standard in the new model. With four airbags, the Sandero Stepway lags behind its class in terms of safety. After makeup, Stepway got a modern look. The improved steering system and suspension are commendable. As usual, the material quality lags behind the competition. But in terms of hardware, it has reached the average. The most advantageous part of the new Dacia Sandero Stepway 2017 seems to be the automatic transmission, offered with the diesel engine option and economical engines.
Dacia Sandero Stepway Specifications
Body
5 people
5-door hatchback
Length 4089mm
Width 1715mm
Height 1615mm
Wheelbase 2589mm
Empty weight 1165 kg
chassis
McPherson suspension in front
Torsion suspension rear
springs
hydraulic shock absorbers
stabilizer
Tires 195/55 R16
power transmission
front wheel drive
6 Automatic forwarding
engine
4-cylinder in-line system
SOHC
turbo diesel
1461cc content
4000 rpm 90 hp power
1750 rpm 220 Nm power
perfomance
0-100km/h: 12s
Top speed: 166 km/h
Fuel consumption: 3.8 l/100 km